AUTOCAD CERTIFICATE
Before you start dreaming about your new career as a CAD-drafter or any other job in this field. Do you have what it takes to stand out among the other applicants fighting for the same position?
To be able to work with the AutoCAD software on a professional level, a certificate is often required. A certificate validates knowledge and skills and is a competitive advantage. It also demonstrates that you are willing to go the extra mile.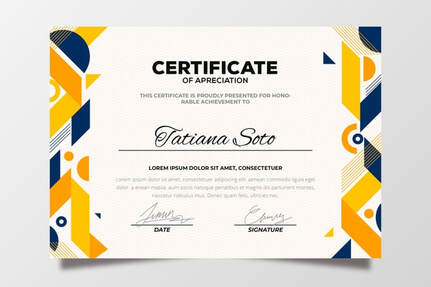 Above a random certificate for illustration purpose only. This is not how
the real AutoCAD certificates look like. However, this one is pretty colorful!
​96% of the students completing the AutoCAD course on this website
manages to acquire an AutoCAD certificate at CertiPort.
CertiPorts website can be a bit overwhelming, here are some useful direct links.
Autodesk Certified User Exam Voucher (US & Canada)
Practice Test for Autodesk Certified User (US & Canada)
List of solution providers (For students outside US)

Where do I start?
1.) Start with completing the AutoCAD tutorial course.
2.) Do all the AutoCAD quizzes, repeat any section you failed with.
3.) Visit CertiPort and start with a practice test, if any problems recheck the tutorial.
4.) Order the final test at CertiPort, and with your new skills you should succeed!
5.) Hooray, you made it! Celebrate!
6.) Visit our Career-page and start visualizing your new dream job.
What is Certiport?
Certiport is a company specialized in certification. They were established in 1997 and is a leading provider of certification tests. With the help of more than 14,000 authorized testing centers worldwide, they deliver more than 3 million exams every year.